The Titan III features linear ways in the Y-Axis, along with a rack and pinion design. Wider end trucks allow for the electrical cabinets to mount within the truck for better protection against the harsh cutting and heat environments as well as providing a cleaner look to the machine.
Cutting widths: 6' to 16' (1.82 m to 4.876 m).
Cutting lengths: up to 150' (45.72 m).
Machine motion accuracy +/- .010" (.254 mm) accuracy, .010" (.254 mm) repeatability. Compensated machine motion in 72" (1.82 m).
Cut material from 26 gauge to 8" (30.48 cm) plate thickness.
Positioning speeds up to 1,700 ipm.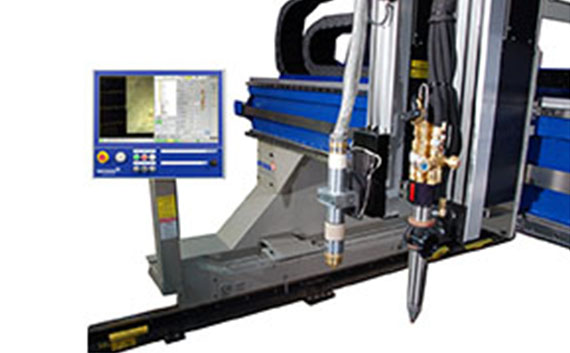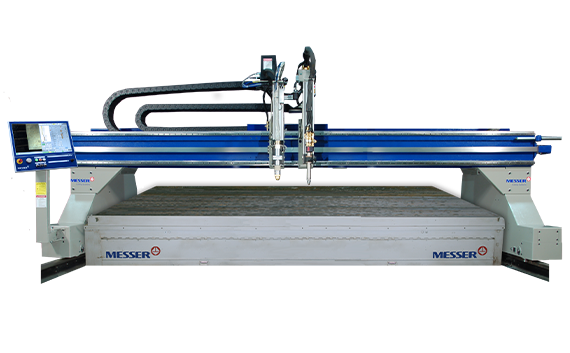 Global ControlPlus Windows® based with easy to use operator interface with touch screen.
Up to eight torch stations (maximum two plasma stations).
Right or left hand mounted control console with tilt and swivel for operator comfort.
High productivity SL lifters.
Messer Cutting Systems GmbH
---
Otto-Hahn-Straße 2-4
64823 Groß Umstadt
In addition to our cutting machines, we also offer you a wide range of other equipment options. Whether marking or drilling, we are sure that we will find the right solution for you.
Messer Cutting Systems is the solution provider for the metalworking industry. In addition to cutting machines and oxyfuel technology, we offer software solutions, spare parts and a wide range of services.
We are sure that we will find the right solution for your individual requirements. Contact us, we will reply to you as fast as possible.
The Titan III combines Y-Axis linear ways with SureTrack pitch line rack and pinion drives to provide the smoothest cut edge and precise holes. Wider end trucks with maximum guide roller spread further stabilizes the X-Axis motion for the utmost cut edge performance. Designed for plasma and oxy-fuel bevel cutting, marking and drilling up to 1/2" (.1524 mm) in a variety industries the Titan III can be configured with many additional options.
The Titan III truly has Incredible Strength, Flexibility and Performance. That's Powerful Productivity!