TerraBlade 4.0 is an innovative equipment. Being considered low cost, it is the ideal machine to meet the production needs of small and medium companies.
It takes control of all production needs and is the best cost-benefit in the market. Key benefits include the complete installation of the equipment, which is quick and simple, and the ease of operation, offering flexibility to produce quickly, accurately and economically.
Compact, easy to buy and maintain, TerraBlade 4.0 is the best choice for users who need economical equipment, yet robust. With high technology and Messer's quality assurance, TerraBlade 4.0 can operate with up to two tools, one plasma and one oxyfuel or two oxyfuel, all with height control and automatic ignition.
Compact design and robust structure
Cables and hoses inside the porch, which ensures safety and cleanliness
Mechanical system of high precision and robustness in the movement of X and Y
Positioning speed of 25 m/min, which reduces idle time between cuts
High cutting speeds, depending on material and process
For plasma up to 50 mm* (perforation) and oxyfuel up to 300 mm
Magnetic base with anti-collision system that reduces the risk of damage to the torch
Reliable height control, which operates through arc tension control, which improves nozzle life and cut quality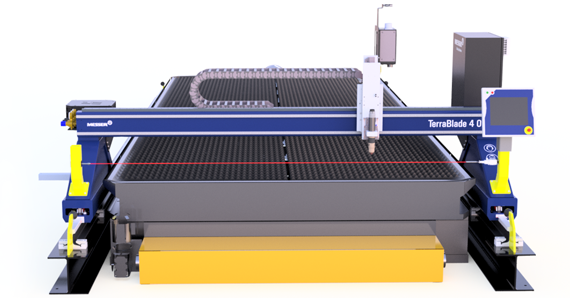 Productive, reliable, versatile and with low operational cost. The smallest investment with a very attractive return
Quality Messer at a competitive price, which means unparalleled cost-benefit
Gain productivity due to the high speed of the torch suspension displacement
Messer Cutting Systems do Brasil Ltda.
---
Av. Juvenal Arantes, 2500
Condomínio Industrial Bracaiúva
Medeiros - Jundiaí/SP
Brasil
CEP 13212-354
Messer Cutting Systems is the solution provider for the metalworking industry. In addition to cutting machines and oxyfuel technology, we offer software solutions, spare parts and a wide range of services.
We are sure that we will find the right solution for your individual requirements. Contact us, we will reply to you as fast as possible.